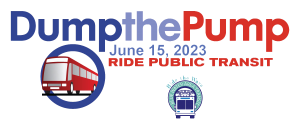 Blue Water Area Transit (BWAT) invites the community to enjoy FREE bus trips on Thursday, June 15 to celebrate National Dump the Pump Day. BWAT joins hundreds of transit systems throughout the country that participate in the American Public Transportation Association's (APTA) celebration.
     Additionally, BWAT is holding a contest for "Dump the Pump." Participants just need to take a selfie on a BWAT bus and post it on our Facebook page (
https://www.facebook.com/bluewaterbus/
) June 15th with the caption, "I dumped the pump!" The winner – drawn at random from all the entries — will get a one-month "Go-As-You-Please" pass.
     "We like to show how our buses provide a safe and convenient way to travel," said BWAT general manager Dave McElroy. "After people learn how easy it is to ride the bus, they often continue to use transit."
     "We invite the public to "ride the wave" with Blue Water Transit and experience a friendly, cost-effective, and environmentally clean way to get around," said Linda Bruckner, Blue Water Area Transportation Commission Board chair and Ft. Gratiot Township Trustee.
     "When more people ride the bus, everyone benefits," added Anita R. Ashford, BWAT Commission Board vice chair and Port Huron City Council Member. "It helps reduce congestion and air pollution."